From their 6th album to be released on August 6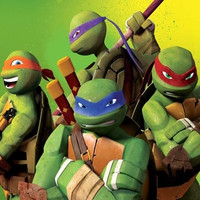 Universal Music Japan today posted a full music video for Japanese rock/pop band GReeeeN's latest song "Shinobi," which is now used as the OP song for the Japanese-dubbed version of theCGI-animated Teenage Mutant Ninja Turtles TV series. "Shinobi" is an alternative name of Ninja. The song will be included the band's upcoming 6th album "Imakara Oyayubi ga Kieru Tejina Shima-su," which is scheduled to be released in Japan on August 6.
With motion capture technology, the four members of the band are preforming as the turtles in the video: HIDE as Leonardo, navi as Michelangelo, SOH as Donatello, and 92 as Raphael. The faces of the members have never been made public.
"Shinobi" PV
GReeeeN artist image
via: Natalie
©High Speed Boyz inc.
©2014 Viacom Overseas Holdings C.V.