Stylized and stylish original anime-influenced designs now available in the Crunchyroll Store!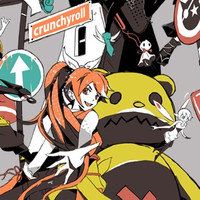 I'm usually pretty good about impulse buys. I waited months before I bought a PS4, and I almost always research electronics or other pricey items before laying down the cash. And then... there are t-shirts. Put simply, I'm running out of room in my dresser.
Somehow sensing my immense weakness when it comes to buying really awesome shirts, Crunchyroll has partnered with BOOMSLANK, an apparel company started by a trio of brothers (Justin, Kevin, and David) who are all huge anime fans. The idea came to them when they realized that their brother David was a talented anime artist. Having always wanted to start a business, Justin saw an opportunity to create a brand based on a passion the three of them shared.
Boomslank's leverage is the fact that all shirts are based on original anime artwork--you won't find characters from Naruto, Dragon Ball Z, or even Tonari no Seki-kun on a Boomslank shirt. At the moment, Boomslank sells t-shirts, phone cases and posters. The site also hosts a fanart social page where anime fans can submit and share artwork with each other.
Why did Crunchyroll choose to collaborate with Boomslank? Personally, I think the art speaks for itself, but we really wanted to see what they would come up with when we asked them to simply illustrate the idea of Crunchyroll! We've got a lot of Boomslank fans here at CR, in regards to both their great original art and their high-quality shirts. Hopefully, this is the first of many collabs to come--stay tuned for more, and grab this one as a Daily Deal while you can!
Now if you'll excuse me, I need to make more room in my dresser.