"I wanted to provide the file for other users."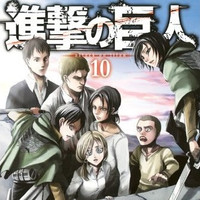 ACCS reported that Ishikawa Prefectural Police's Consumer and Environmental Protection Division and its Daishyouji station arrested a 35-year-old male office worker from Kaga-city on suspicion of copyright infringement (infringement of public transmission rights), then referred the case to the Komatsu branch of the Kanazawa Public Prosecutors Office on July 18.
The suspect is accused of using the file-sharing software Share to upload the time-limited edition of the 10th volume of Hajime Isayama's popular manga Attack on Titan to the internet without the copyright holder Kodansha's permission on December 20, 2013. The print and digital editions of the volume was simultaneously released in Japan on April 9 of the same year, and the latter came with a full-color version of the 14th episode which was originally included in the 4th volume as a time-limited bonus content. The illegal act was found by the prefectural police's cyber patrol. Searching the suspect's house,
the police seized his PCs and hard-disks he used for the crime. He has already admitted his charge and said,
"Because I was able to get the file using Share, I wanted to provide it for other users." In addition to this,
he is also arrested on obscene electromagnetic record distribution charges.
Uploading the contents of the manga tankobon or magazines to the internet without the respective copyright
holder's permission is illegal in Japan. The criminal act can result in a 10-year jail sentence or a fine of 10
million yen (about US$98,000) in the worst case.
Source: The Association of Copyright for Computer Software
Attack on Titan image © Hajime Isayama, Kodansha
---
Related:
Man Arrested for Posting "Crayon Shin-chan" and "Black Jack" Anime on Video Sharing Site FC2
39-year-old Man Arrested for Uploading "Attack on Titan," "One Piece" TV Anime Episodes
Chinese Man Arrested for Selling Pirated Boa Hancock Figures
Another Share User Arrested for Uploading "K-ON!!" TV Anime
45-year-old Man Arrested for Uploading 4 TV Anime including "Non Non Biyori," "Nagi no Asukara"
38-year-old Unemployed Man Arrested for Uploading "Dokidoki! PreCure"
33 People Arrested for Illegal Uploading of Anime, Films in 3 Days
36-Year-Old Unemployed Man Arrested for Uploading "Gintama" Manga
47-Year-Old Unemployed Man Arrested for Uploading "Berserk" Manga
Unemployed Man Arrested for Posting Hayao Miyazaki's "The Wind Rises" on FC2 Site
Man Arrested for Uploading "Tamako Market" Anime Episode