The two Kyoto sequels hit theaters successively this summer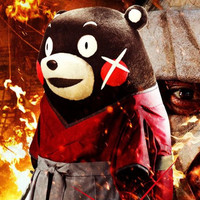 Kumamon, the mascot of Kumamoto Prefecture, has been spending a lot of time with Himura Kenshin. The bear took the ex-political assassin's place for April Fool's. Kenshin's movie has been promoted with mascot merch. Now, for the Tokyo premiere of live-action film Rurouni Kenshin - The Kyoto Fire, Kumamon has taken the stage to show off his skills.
Actors above include Takeru Satoh (Kenshin Himura), Emi Takei (Kaoru Kamiya), Aoki Munetaka (Sanosuke Sagara) and Kaito Oyago (Yahiko Myojin).
Actor Tatsuya Fujiwara (Death Note's Light Yagami) is being introduced as the political assassin/revolutionary villain Shishio Makoto. Keishi Otomo returns to direct the movies.
Yusuke Iseya (live action Casshern, live-action Ashita no Joe's Rikishi, 13 Assassin's Kiga Koyata) will play strength obsessed Oniwabanshū ninja Aoshi Shinomori and Ryunosuke Kamiki (Kazoku Game, Summer Wars' Kenji Koiso, Howl's Moving Castle's Markl) will play cheerful, deadly young swordaman Sōjirō Seta.
Kaito Oyagi (Abacus and Sword) will replace Taketo Tanaka for the role of Yahiko Myojin in the sequel

Ryosuke Miura (Kamen Rider OOO) will play the role of Cho Sawagejo.
Maryjun Takahashi (Fashion Story - Model) will play the role of Shishio's lover, Yumi Komagata.
Min Tanaka (The Twilight Samurai) will play the role of former Oniwabanshū leader Nenji "Okina" Kashiwazaki.
THE BOOM's Kazufumi Miyazawa will play the role of Okubo Toshimichi, a statesman and one of the three great nobles who led the Meiji Restoration.
Yukinoshi Ozawa (Hayabusa: The Long Voyage Home) will play the role of Japan's first Prime Minister, Ito Hirobumi, a historic figure who didn't factor into the original manga.
Scott Green is editor and reporter for anime and manga at geek entertainment site Ain't It Cool News. Follow him on Twitter at @aicnanime.