Quelques images du segment animé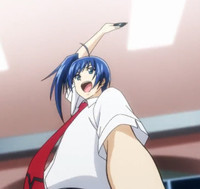 C'est par l'intermédiaire de la chaîne YouTube du site animeanime.jp que nous découvrons le nouveau teaser de Cardfight!! Vanguard The Movie.
Ce long-métrage est particulier dans la mesure où il se compose de deux segments distincts : l'un en prises de vues réelles, l'autre en film d'animation. C'est ce dernier que nous présente le teaser en question. Intitulé Neon Messiah, il sera réalisé par Shin Itagaki (Devil May Cry, Black Cat), tandis que la partie live, Mittsu no Game, a été confiée à Takashi Motoki. Cardfight!! Vanguard The Movie est prévu le 13 septembre dans les cinémas japonais.
En parallèle, la quatrième saison de la série Cardfight!! Vanguard, intitulée Legion Mate-Hen, est diffusée depuis le mois de mars au Japon.