Another comedy series featuring military moe girls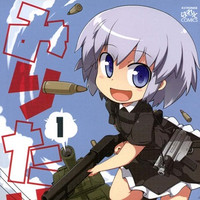 Are "Girls" and "Tanks" the key of the success in the anime business today? It is officially confirmed at Wonder Festival Summer 2014, which is being held today at Makuhari Messe in Chiba Prefecture, that an anime adaptation of Mamo Williams' 4-panel comedy manga Miritari! is in the works. You can check the photo report of the manga's booth at Animate. TV.
The original manga series Miritari! was first serialized in Ichijinsha's Manga Palette Lite from 2009. After the magazine stopped its publication, the manga moved to the publisher's Manga 4-koma Palette, then finished in its July 2013 issue. Now it is compiled in five tankobon volumes. Its sequel Miritari! Otsugata has been running in the magazine since its April 2014 issue.
The story centers on an ordinary otaku high school student Souhei Yano. One day, two female soldiers
from Principality of Krakozhia, Lieutenant Rtgalnikov and Second Lieutenant Haruka suddenly appear in
their tanks as his guards. Then an assassin girl from the Grania Republic named Shachirofu also arrives
the town to kill him. Unfortunately, none of the girls care about using firearms in or around private houses
at all....
Tankobon volume 1 & 2 covers
Volume 3 & 4 covers
Volume 5 cover
Source: Animate. TV
© Mamo Williams/Ichijinsha