Introducing the theme song "Hayakuchi Curry" performed by Unicorn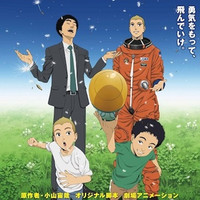 Following the two teasers posted in February and June, the official YouTube channel for the upcoming anime film adaptation of Chuya Koyama's astronaut training story manga, titled Space Brothers #0 (number 0), has finally posted a 90-second full trailer. In the beginning of the video, Koyama who also provides an original script for the film says, "In order to draw a sequel to the dream, I wrote the origin of the dream." The prequel story is set in four years before the first episode, and is featuring Brian Jay, NASA's astronaut who was already dead in the story lines of the manga and TV anime.
Space Brothers #0 opens in Japan on August 9.
Full trailer
Second teaser
First teaser
Movie flyer
Source: "Space Brothers#0" official site
© Space Brothers CES2014