Manga licenses announced at San Diego Comic Con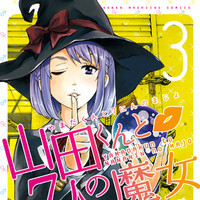 Manga publisher Kodansha Comics announced today at San Diego Comic-Con that it would add two new series to its 2015 slate: the hit shonen series Yamada-Kun and the Seven Witches, and a moving tale of ballroom dance, Let's Dance a Waltz.
Kodansha descrbes the series
Miki Yoshikawa's Yamada-Kun and the Seven Witches is one of the most popular series on Crunchyroll. Class troublemaker Ryu Yamada is already having a bad day when he stumbles down a staircase along with star student Urara Shiraishi. When he wakes up, he realizes they have switched bodies—and that Ryu has the power to trade places with anyone with only a kiss! Plus, it turns out he's not the only kid at school with a few magic tricks up his sleeve… Yoshikawa used to be an assistant on Hiro Mashima's Fairy Tail.
Natsumi Ando, author of the fan-favorite Kitchen Princess, returns with a charming tale of what it feels like when you just can't fit in with Let's Dance a Waltz. When Hime Makimura was young, her mother told her that she could be like a princess someday. Now that Hime is in middle school, overweight and unpopular, life is a cruel disappointment. Tango Minami is a popular high school boy who hides his job as a ballroom dance instructor to maintain his image. But when Tango's mom urges Tango to take Hime as a student, everything gets turned upside down! Will Tango's classmate find out about his embarrassing job?! And will Hime find the self-confidence needed to be like a princess on the ballroom floor?!
------
Scott Green is editor and reporter for anime and manga at geek entertainment site Ain't It Cool News. Follow him on Twitter at @aicnanime.