"TWO BY TWO" hits stores on August 6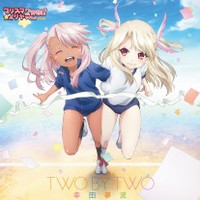 Lantis will release 22-year-old anime voice actress Yumeha Kouda's solo singer debut single "TWO BY TWO" in Japan on August 6. The song is now featured as the ED theme for the summer 2014 TV anime Fate/Kaleid Liner Prisma Illya 2wei!. She is reporting today on her official Twitter that a short version promotional video for the song is now available on YouTube. This is her first PV in her career and according to her blog post on July 7, she performed the song for the first time at the advance screening event for the anime on June 28. As a voice actress, she is best known as Di-air in the 2009-2010 TV anime Kiddy Girl-and, her debut role.
Fate/Kaleid Liner Prisma Illya 2wei! is now available to Crunchyroll's audience in the following territories: North America, United Kingdom, Ireland, South Africa, Finland, Norway, Sweden, Denmark, Netherlands, and Latin America (Central and South America including the Caribbean).
"TWO BY TWO" short PV
Source: Yumeha Kouda's official Twitter
© 2014 Hiroshi Hiroyama, TYPE-MOON/KADOKAWA/"Prisma Illya 2wei!" Production Committee