DVD due September 9th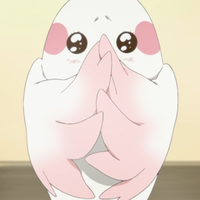 Classic KyoAni cute comes to DVD on September 9th, and with a collection set to be released September 9th, Sentai Filmworks has announced their English dub cast for Tamako Market.
About Tamako Market
Tamako knows just about everything there is to know about mochi, the traditional Japanese desert treats. When she's not attending her first year of high school, she even invents new flavors and varieties for Tama-ya, her family's mochi shop. School and growing up, on the other hand, are things that she's still trying to find the right recipe for. But with the help of her best friends Kanna and Midori, Tamako's determined to make the best of things.
It's complicated though, especially when it comes to emotions and her relationship with her best BOY friend Mochizo, whose family runs a rival mochi shop. And lately, Kanna's been feeling a little odd about her feelings towards Tamako as well. And what's with up with that strange bird fluttering around, the one that speaks fluent Japanese? It's all very mysterious and overwhelming, but at least Tamako always has one thing she can count on: no matter if your day's been good or bad, there's certain to be something sugary and delicious waiting at the end of every adventure!
English Dub Cast List
ADR Director
Christopher Ayres
English Cast
Tamako Kitashirakawa Margaret McDonald
Midori Tokiwa Juliet Simmons
Kanna Makino Caitlynn French
Choi Mochimazzui Allison Sumrall
Dera Mochimazzui Jay Hickman
Anko Kitashirakawa Brittney Karbowski
Mochizo Ooji Clint Bickham
Shiori Asagiri Krystal LaPorte
Mamedai Kitashirakawa David Wald
Fuku Kitashirakawa Carl Masterson
Shiori Asagiri Krystal LaPorte
Gohei Ooji John Swasey
Michiko Ooji Molly Searcy
Karou Leraldo Anzaldua
Kunio David Matranga
Chouji Christopher Ayres
Fumiko Tiffany Grant
Takashi Scotty Fults
Mari Carli Mosier
Nobuhiko John Kaiser
Prince Metcha, Tomio Greg Ayres
Sayuri Kasi Hallowell
Tadanao Andrew Love
Mr. Yagi Houston Hayes
Inuyama Blake Shepard
Hinako Kitashirakawa Nancy Novotny
Yuzuki Kalin Coates
Tatsuya Genevieve Simmons
------
Scott Green is editor and reporter for anime and manga at geek entertainment site Ain't It Cool News. Follow him on Twitter at @aicnanime.