Produced by Bedford Falls Company (The Last Samurai)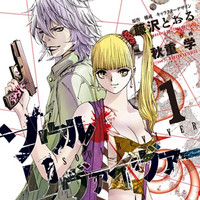 It is officially announced today that a live-action Hollywood film adaptation of the Soul Reviver manga by Tohru Fuijisawa (original story, story composition, character design) and Manabu Akishige (art) is in the works. Fujisawa is best known for his GTO manga series. The fantasy action manga has been serialized in Shogakukan Creative's Monthly Comic Hero's since its January 2012 issue and now four tankobon volumes are available in Japan. Read the English press release below.
---
Herskovitz and Zwick to Develop English - language Action Film Based on Japanese Manga 'SOUL ReVIVER'
LOS ANGELES, Calif.; July 30 th, 2014 – Field s Corporation and All Nippo n Entertainment Works (ANEW)
announced today that they will partner with renowned filmmakers Edward Zwick and Marshall Herskovitz
(The Last Samurai, Blood Diamond) and their Bedford Falls Company to create a live action English -
language film based on the popular Japanese manga "SOUL ReVIVER".
"SOUL ReVIVER" is a supernatural action series created by Tohru Fujisawa and Manabu Akishige and featured
in HERO'S, a monthly Japanese comic magazine. The "ReVivers" in the title have the ability to move between
the worlds of the living and the dead, in order to bring certain people back whose mission on earth was not
complete.
The Bedford Falls Company, Fields Corporation and ANEW will produce jointly, Herskovitz and Zwick will write
the screenplay, and Zwick will direct.
" Many of our films take you to a different time or place," said Herskovitz. "In 'SOUL ReVIVER ' I' m excited
by the idea of explor ing a vastly different world existing in the same space as our own. " Zwick added, "
Japanese cinema has always bee n a touchstone for me. I'm excited to extend that relationship to this new
and vital part of Japanese culture."
From Left: Edward Zwick , Tohru Fujisawa and Marshall Herskovitz
The cover of the manga 1st volume
3DCG PV
Source: Comic Hero's