All-new sequel film hits theaters on December 6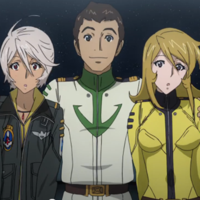 Cinema Today has posted a new promotional poster visual and 30-second new teaser for the upcoming film Space Battleship Yamato: The Starfaring Ark. The second teaser shows new anime footage introducing new characters for the film, including Goran Dagarm (the spelling might be wrong), the commander of Yamato's new enemy Gatlantis.
Following the compilation film of the 26-episode TV anime in 2013, Recollection of the Voyage scheduled for October 11, the all-new sequel film The Starfaring Ark hits Japanese theaters on December 6.
"The Starfaring Ark" 2nd teaser
1st teaser
New promotional poster
via: Cinema Today
© Yoshinobu Nishizaki/2014 Space Battleship Yamato 2199 Production Committee
© 2012 Space Battleship Yamato 2199 Production Committee