On sale now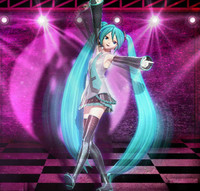 HAKO VISIONs are candy toys that reproduce projection mapping presentations using a smartphone. Gundam helped kick off the line, and now, fans can enjoy a Hatsune Miku concert right in the palm of their hands. Watch a demo, courtesy of the Japan Times, below!
BONUS! Promo pictures from the Hatsune Miku HAKO VISION toy
---------
Patrick Macias is editor in chief of Crunchyroll News. He is also the editor of Otaku USA magazine. Check out his rather amazing Tumblr at japanesefashioninferno.tumblr.com.