A notícia foi confirmada pela dobradora da personagem principal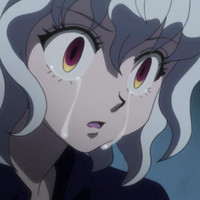 Numa entrevista ao site japonês Mantanweb, a atriz Megumi Han, que oferece a voz a Gon Freecss, protagonista da versão de 2011 do popular shounen Hunter x Hunter, revelou que a produção do mesmo foi dada como concluída no episódio 148.
O próximo episódio a ser emitido será o 143, na próxima terça-feira, 19 de agosto. Como sempre, podem acompanhar o anime semanalmente aqui na Crunchyroll.pt. A adaptação anterior do manga de Yoshihiro Togashi estreou em 1999 e terminou dois anos depois, com apenas 62 episódios. Depois disso, foram ainda lançados 30 episódios OVA adicionais entre 2002 e 2004.
Equipa de produção após a gravação do último episódio
Megumi Han com o diretor de som, Tomoaki Yamada
Para celebrar o final de Hunter x Hunter, o animador Takahiko Abiru vai viajar aos Estados Unidos pela primeira vez:
To memorialize the end of Hunter x Hunter 2011, Takahiko Abiru will be going to states for the first time.(@ ̄ρ ̄@)

— yoshihiro watanabe (@crazynabe) 17 agosto 2014
via: Crunchyroll News
---
Gustavo Silva é contribuinte de notícias lusitano na Crunchyroll.pt e amante de animes, música e cultura japonesa.