PV for group's first song, "Manmadieya!"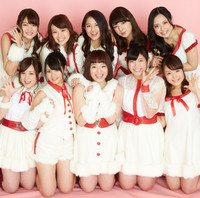 I've said it before and I'll say it again: the amount of idol groups in Japan are at an all-time high, and it helps to have one heck of a gimmick to stand out from the pack. Enter: Chubbiness, a 10 girl all-singing, all-dancing troupe of "chubby girls" handpicked by record label Avex and fashion magazine CamCan at an audition held in 2013.
The result is "Manmadieya!", Chubbiness' first song and first music video that, according to Tokyogirlsupdate.com, represents the feelings of girls who love eating. Bon appetit below…
Fun fact: Chubbiness group members also get to work at two limited time theme restaurants in Japan. They also push diet and exercise products at a mail order site called "ChubbiMart". Discover much more at the official Chubbiness home page.
BONUS! A pair of publicity pics of...Chubbiness
---------
Patrick Macias is editor in chief of Crunchyroll News. He is also the editor of Otaku USA magazine. Check out his rather amazing Tumblr at japanesefashioninferno.tumblr.com.