The OP song is again performed by Iori Nomizu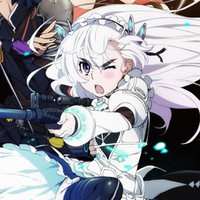 The official site for Chaika -The Coffin Princess- Avenging Battle, the highly-anticipated TV anime second season based on Ichiro Sakaki's popular light novel series, has listed its premiere schedule. It will be aired in the same time slot with the 12-episode first season in Japan. Check the schedule below.
October 8:
Tokyo MX (25:05~25:35), Sun TV (25:30~26:00), TVQ Kyushu Housou (26:40~27:10)
October 9:
Chiba TV (25:00~25:30), TV Saitama (25:05~25:35), Gifu Housou (25:45~26:15), Mie TV Housou (26:20~26:50)
October 10:
tvk (25:15~25:45), BS 11 (27:00~27:30)
It was also announced that Iori Nomizu, who sang the OP theme for the first season "DARAKENA" and
voiced Vivi Holopainen, is back to sing the second season's OP song "Shikkoku wo Nuritsubuse" (Paint over
the jet black). You can check part of the song in the first PV for the anime below. The ED song "Watashi wa
Omae no Naka ni Iru" (I am existing inside of you) is performed by the voice actress unit "coffin princess"
formed by Nomizu, Chika Anzai (Chaika Trabant), and Saeko Zogo (Chaika Bohdan). The CD singles for the
OP and ED songs will be released separately on October 29.
1st PV
「棺姫のチャイカ AVENGING BATTLE」放送開始日決定致しました!!10月8日(水)よりTOKYO MX他にてTVアニメ放送開始です!!各局放送時間詳細はコチラ→http://t.co/CDw56AJZfP #棺姫のチャイカ pic.twitter.com/W2Xan3mj4d

— 【公式】棺姫のチャイカ (@ChaikaTrabant) August 26, 2014
Source: Chaika –The Coffin Princess- anime official site, Natalie
© 2014 Ichiro Sakaki, Namaniku ATK (Nitroplus)/Kadokawa, Fujimi Shobou/Chaika –The Coffin Princess AB Production Committee