Plus a chance to suggest an English name for "Watashi ga Motete Dousunda"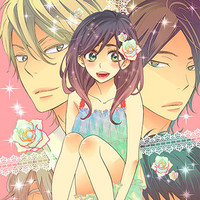 Crunchyroll Manga has launched the recently announced additions of Kei Kusunoki's The Legend of Onikirimaru and Miyahara Ruri's Bokura wa Minna Kawaisou to its digital service, and accompanied these by the announcement of a number of new manga and manga 2.5 titles, one of which you can help localize.
Manga 2.5 title After School of the Earth will be available to all Crunchyroll users WORLDWIDE excluding Japan.

Humans have been erased by mysterious life forms called "Phantoms", only one boy and three girls, Masashi, Sanae, Yaeko, and Anna are left on Earth. Masashi believes that it's like after school so that the people who vanished will surely come back. Although there are full of anxiety and mystery around them, they spend every day rather happily not so sadly without inconvenience to food, clothing and shelter, enjoy the life of only four on Earth!

CAST

Kenji Akabane as Masashi Kawamura
Satomi Moriya as Sanae
Yui Nakajima as Yaeko
Mami Uchida as Anna
Ai Kakuma as Kiyomi
Nana Inoue as a girl

ORIGINAL MANGA

Chikyu no Houkago (After School of the Earth)
Created by AKIHITO YOSHITOMI
Published by AKITASHOTEN
©2010 AKIHITO YOSHITOMI(AKITASHOTEN JAPAN)
Manga 2.5 title Renai Senka -The Special Class of Love- which will be available to all Crunchyroll users WORLDWIDE excluding Japan at the same time, 8/31 @ 7pm pst
Nobuta Yabuta is a beginning teacher appointed to the prestigious girls' high school Sakura Gakuen, but in fact, he is a women phobia. There are five girls who are supposed to become first-class ladies in his classroom. It is called "love specialized course" or "Renai Senka". The mission for the girls in order to graduate is just one thing; to be kissed by the homeroom teacher. They tempt Yabuta in every possible means so that they win a kiss from him...

CAST

Shintaro Asanuma as Nobuta Yabuta
Yoshino Nanjo as Miyako Sakurakoji
Rina Hidaka as Kokoro Kusama
Aki Toyosaki as Akane Fujimori
Ami Koshimizu as Yukio Takabayashi
Yu Kobayashi as Kasumi Naeki
Akiko Matsuzaki as Principal
Chihira Kouno as teacher

ORIGINAL MANGA

Renai Senka
Created by Mizutama 
Published by HOUBUNSHA
(C) Mizutama, HOUBUNSHA
The third of the new Manga 2.5 titles is Tonari-no Kashiwagi-san which will be available for all Crunchyroll users WORLDWIDE excluding Japan at the same time as the other two.

Yuto Sakuraba is a high school boy who enjoys his geek (Otaku) life, loving manga, anime and so on. He is hooked on illustration by Sayane on an SNS recently. Although he only likes such two-dimensional girls, he becomes interested in the three-dimensional, real girl for the first time. The girl is Kotone Kashiwagi, so beautiful classmate sitting next to him. She seems to hate Otaku, but in fact, she has some secrets…

CAST

Tetsuya Kakihara as Yuto Sakuraba
Ayahi Takagaki as Kotone Kashiwagi
Yuka Iguchi as Sayaka Fukuda
Toshiki Masuda as Kazuki Kusano
Eriko Matsui as Kotori Abekawa
Chihira Kouno,Hitomi Yamano

ORIGINAL MANGA

TONARI-NO KASHIWAGI-SAN
Created by Kinusa Shimotsuki
Published by HOUBUNSHA
(C) Kinusa Shimotsuki, HOUBUNSHA
Finally, the newest addition to Crunchyroll Manga is Watashi ga Motete Dousunda by Junko.
Crunchyroll Manga explains what's special about this one
I AM SUPER EXCITED FOR THIS ONE, because Crunchyroll users get to create the English title and it'll be hand picked by Kodansha! That's right, guys! I'll be posting more details along with the contest AND first chapter of the manga on 9/3 @ 5pm PST with the remainder of the catalog and next simul-pub coming to Crunchyroll 9/18 @ 5pm PST!
Kae Serinuma is what you'd call a "fujoshi." When she sees boys getting along with each other, she loves to indulge in wild fantasies! One day her favorite anime character dies and the shock causes her to lose a ton of weight. Then four hot guys at school ask her out, but that isn't exciting to her at all — she'd rather see them date each other!
Also, remember that there's an announcement coming up for this series in its Japanese home magazine.
-------
Scott Green is editor and reporter for anime and manga at geek entertainment site Ain't It Cool News. Follow him on Twitter at @aicnanime.