Who is the nastiest character of them all?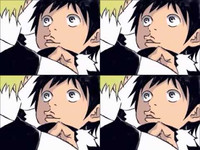 They are bad to the bone and people love to hate them or hate them but can't stop loving them. Japanese anime poll site Charapedia recently posted the results of a recent poll to decide the top 20 anime characters with bad/nasty personalities. The vote was collected during the period of August 21st - 27th from internet users, made up of 52.3% male and 47.7% female voters. The points are calculated with the number of votes, rank and the number of comments received were also considered in the final tally.
Top 20 Meanest Characters In Anime History
#20 Gendou Ikari from Neon Genesis Evangelion 209 points
#19 Marshall D Teach from ONE PIECE 216 points
#18 Kirino Kousaka from Oreimo 221 points
#17 Sho Midosuji from Yowapeda 227 points
#16 Eliza Leagan from Candy Candy 278 points
#15 Suneo Honekawa from Doraemon 287 points
© Fujiko Production, Shogakukan, TV Asahi, Shinei, ADK
#14 Hachiman Hikigaya from My Teen Romantic Comedy SNAFU 302 points
#13 Dio Brando from JoJo's Bizarre Adventure 305 ponits
#12 Shoichi Imayoshi from Kuroko's Basketball 326 points
#11 Toru Oikawa from Haikyu!! 350 points
#10 Katejina Loos from Mobile Suit Victory Gundam 351 points
© Sotsu / Sunrise
#9 Kyubei from Puella Magi Madoka Magica 425 points
#8 Musuka from Castle In The Sky 457 points
#7 Light Yagami from DEATH NOTE 489 points
#6 Sougo Okita from Gintama 609 ponits
#5 Nobuyuki Sugou from Sword Art Online 659 ponits
#4 Frieza from Dragon Ball 711 points
© Bird Studio/Shueisha, Fuji TV, and Toei Animation
#3 Makoto Ito from School Days 785 points
© 2012 STACK, JAST USA - All Rights Reserved
#2 Makoto Hanamiya from Kuroko's Basketball 1,106 points
© Tadatoshi Fujimaki/Shueisha/Kuroko's Basketball Production Committee
#1 Izaya Orihara from Durarara!! 1,158 points
(C)成田良悟/アスキー・メディアワークス/池袋ダラーズ・MBS (C)2010-2011 ASCII MEDIA WORKS Inc. (c) KADOKAWA CORPORATION 2014
Let's celebrate Izaya's win by this old fan-made video of Renai Circulation performed by Limone Sensei, Nico Singer.
Do you agree with the results? There is a possible cultural difference in what is considered a mean or bad personality, but I feel the top 3 is very convincing. Makoto Hanamiya ranked #1 in the female voting results and Makoto Ito ranked #1 in the male voting results while Izaya ranked #2 in the female results and #4 in male results. Is there anyone missing from the list?
Source: Charapedia