Inspirations for popular anime are due in 2015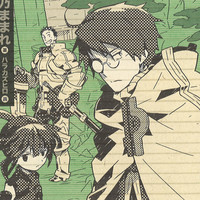 Yen Press has told Publishers Weekly that their Yen On light novel line will be releasing the source material for the popular Log Horizon and The Devil is a Part-Timer! anime in 2015.
No Game No Life Written & illustrated by Yuu Kamiya – April 2015

From Yen Press:
Meet Sora and Shiro, a brother and sister who are loser shut-ins by normal standards. But these siblings don't play by the rules of the "crappy game" that is average society. In the world of gaming, the genius pair reign supreme, their invincible avatar so famous that it's the stuff of urban legend. So when a young boy calling himself "God" summons the siblings to a fantastic alternate world, where war is forbidden, and all conflicts—even those involving national borders—are decided by the outcome of games, Sora and Shiro have pretty much hit the jackpot. But they soon learn that in this world, humanity, cornered and outnumbered by other species, survives within the confines of one city. Will Sora and Shiro, two failures at life, turn out to be the saviors of mankind? Let the games begin…!

Also known as NGNL or Noge Nora, No Game No Life is currently a six volume light novel series in Japan published by ASCII Media Factory. The anime adaptation of No Game No Life is currently streaming on Crunchyroll.com.



The Devil Is a Part-Timer! (Hataraku Maō-sama) by Satoshi Wagahara, illustrations by 029 (Oniku) – April 2015
From Yen Press:
After being soundly thrashed by the Hero, Emilia, the Devil King, Satan, and his general, Alciel beat a hasty retreat to a parallel universe… only to land plop in the middle of bustling modern day Tokyo! Lacking the magic necessary to return home, the two are forced to assume human identities and live average human lives until they can find a better solution. And to make ends meet, Satan finds gainful employment at a nearby fast food joint! With his devilish mind set on working his way up the management food chain, what will become of his thirst for conquest?!

This fun fantasy/slice-of-life comedy series about a demonic lord who channels his ambitions toward being the best fast-food worker he can be is up to 11 volumes of light novels. There's also a manga adaptation illustrated by Akio Hīragi , currently serialized in Dengeki Daioh magazine. The anime adaptation of The Devil is a Part-Timer! is currently streaming on Hulu.com and FUNimation.com.


Log Horizon by Mamare Touno, illustrated by Kazuhiro Hara – March 2015
From Yen Press:
When 30,000 Japanese gamers are suddenly trapped in the online game world of "Elder Tale," the realm of swords and sorcery that was up until yesterday very much a fantasy is now their cold, hard reality. Severed from their everyday lives, they're faced with fighting monsters, eating food with no flavor, and being unable to die?! Amid the chaos in "Elder Tale" Akihabara, veteran gamer Shiroe locates his old friend Naotsugu and teams up with the beautiful female assassin Akatsuki, embarking on an adventure to change the world as they know it!
Pandora Hearts ~ Caucus Race ~ by Shinobu Wakamiya / Original story & illustration by Jun Mochizuki – May 2015
From Yen Press:
In this first ever novelization based on the work of The New York Times-bestselling mangaka Jun Mochizuki, the elaborate, charming, and bittersweet world of Pandora Hearts is woven into short stories that peer into the houses of the four great dukedoms and reveal yet more facets to the series' beloved characters. Making each volume of this series even more special are the manga shorts drawn specially for the novelization by Jun Mochizuki herself!
-------
Scott Green is editor and reporter for anime and manga at geek entertainment site Ain't It Cool News. Follow him on Twitter at @aicnanime.