Special effects box will be launched in Japan in October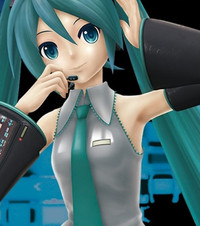 For any guitar players that want to make their guitar sound like Miku Hatsune, Korg (best known for developing the DS-10 music creation software for the Nintendo DS) may have come up with a more convenient solution that doesn't require running additional software or digital input boxes through computer software.
As can be seen in the above image, the MIKUSTOMP effects box is a standard guitar effects box with a rotary knob and footswitch for activating the box on the fly, either directly through a guitar and amp or as a part of a larger effects rack. The effects that will be available on the box correspond to Miku's current vocal range and can even be randomized for some interesting effects. Korg has also released a teaser video for the effects box, which provides a basic idea of what the box is capable of, embedded below:
Pricing for the effects box is yet to be determined with only a vague October launch date for Japan available at this time, but I doubt that will stop anyone that really wants to import it if Korg Worldwide decides not to officially release the effects box in the West. If you play guitar or play around with Vocaloid software, would you be willing to buy this effects box?
Images: ©Korg, Crypton Future Media, Piapro
via Korg Japan
Special thanks to mr_racoon for the heads up!
---
Humberto Saabedra is the Owner of AnimeNews.biz, Editor-in-Chief of PhoneNews.com and a part-time recording engineer. He can also be found musing on things (and Nico Robin) at @AnimeNewsdotbiz