"Kasoku-shiki (Type Kasoku)" produced by Kasoku Sato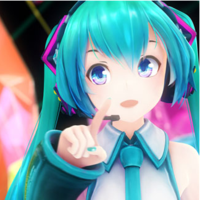 Popular vocaloid song producer Mitchie M has posted a full version promotional video for his latest Hatsune Miku song "Burenai ai de" featuring a new 3D model Miku created by Kasoku Sato. The song is now used for the AR campaign for Rohto Pharmaceutical's new eye drops "Digi Eye." Kasoku previously worked with Mitchie M for his 2012 song "Birthday Song for Miku."
"Burenai ai de" PV
Music: Mitchie M
Video Director: llcheesell (Tatsuro Ogata)
Character Modeling: Kasoku Sato
Choreography: Melochin
Motion Designer: CatsAX
Character Animation Director: kosuke Sato
Character Animation Support: Mashiru-P
Motion Graphics: yama_ko
Motion Graphics: Ryuka
Storyboard / Stage Design: Marie-Ange
"Digi Eye x Hatsune Miku Project Movie"
"Birthday Song for Miku" - Rin,Len,Luka,Meiko,Kaito
via: Kai-You