The total print has reached 310 million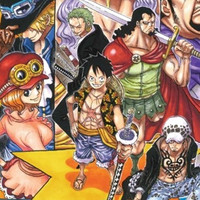 It was officially confirmed yesterday on September 3 that the latest 75th volume of Eiichiro Oda's One Piece manga, which is just released in Japan today, has 4 million copies for its first print run. The super popular series reached the 4 million mark with the 64th volume released in November 2011, then has kept the number in 12 volumes in a row. The highest first print run record was 4.05 million which was achieved by the 67th volume in August 2012. As of now, the total print of the series in Japan has reached unbreakable 310 million.
It is also announced the first character popularity vote in six years will be held. The fans can vote for their favorite One Piece character with the two tickets come with the 75th volume (which means you have to purchase the physical book to vote. One clever way to push the sales). The winner of the last/4th popularity pole held in 2008 was the protagonist Monkey D. Luffy, who got 7,065 votes from the
total of 42,116.
The 75th volume cover
via: Mantan Web
© Eiichiro Oda/Shueisha