Narrated by Armin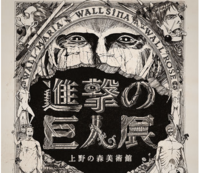 The first promotional video for the Attack On Titan Exhibition at the Ueno No Mori Museum in Tokyo being held this Winter has been posted online. The interactive exhibition will have 1:1 ratio Colossus Titan, 360 degree exhibits using Oculus Rift head-mounted virtual reality displays, an exclusive short film and an audio tour of the exhibit by the Attack On Titan anime's voice cast.
via @ShingekiKyojin
The Attack On Titan manga editor recently posted a photo of Isayama-sensei supervising the head-mounted display demonstration saying that the exhibit visitors will be able to enjoy a very realistic 3DMG experience.
The exhibit will open on November 28th and run until January 25th, 2015. Tickets for the November dates are already sold out and the ticket sales for the rest of the dates will open on September 27th in Japan. All tickets will have assigned entry times for crowd control to ensure an enjoyable museum experience.
©諫山創・講談社/「進撃の巨人」製作委員会