CG anime series created with the MikuMikuDance software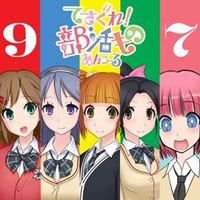 It was officially announced at the fan event "Tesagure! Moyooshimono Encore" held in Tokyo yesterday that the Tesagure! Bukatsu-mono CG TV anime series gets another sequel. The 12-episode first season of the TV anime series created with the MikuMikuDance Software was aired in Japan from October to December in 2013, then the second season titled Tesagure! Bukatsu-mono Encore followed for another 12 episodes from January to March in 2014.
Nishi Asuka, the voice actress for one of the protagonists Yua Suzuki, said in the end of the event, "We still don't know much about it, either. But it will be a 'sequel,' not the third season. The reason why we have to call it so will be revealed eventually. Please looking forward to it!" Judging from her remark, the "sequel" will likely be an one-shot TV special or OVA?
イベント内で発表になりましたが 「てさぐれ!部活もの」 続編制作決定いたしました!!!! ありがとうございます!!!! (ぬこP) #tesabu pic.twitter.com/zOzv1KUhkz

— 「てさぐれ!部活もの」公式あんこーる (@tesabu) September 7, 2014
頑張れ、ひーな!(よしP) #tesabu @irodori7: てさぐれ続編のお知らせを聞いた部室の面々 #tesabu pic.twitter.com/8RGgZiUAsf"

— 「てさぐれ!部活もの」公式あんこーる (@tesabu) September 7, 2014
Source: Nittele News 24
image © Tesagure! Production Committee