The premiere date is set for October 8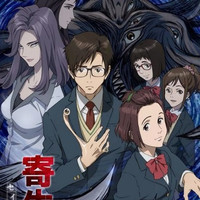 The official site for Kiseiju: Sei no Kakuritsu (Parasyte: Probability of Survival), the upcoming TV anime adaptation of 's classic sci-fi/horror manga Kiseiju/Parasyte, today announced it will premiere on Nihon TV and other stations on October 8, with visuals from the first episode (you can check more of them on Mantan Web), and also confirmed it will be a 24-episode series. The TV anime produced by Madhouse (The Irregular at Magic High School, Hanayamata) is scheduled to be aired at 25:29 every Wednesday.
While the original manga was published from 1988 to 1995 and its story was set in Japan of the same time period, the TV anime will be told in the present Japan of the 21st Century. So the anime characters are able to use modern day gadgets such as internet and smartphones which were not commonly available at the time of the manga. Will the change affect the story?
Key visual
Teaser (coutesy of MaiDiGi TV)
Source: "Kiseiju: Sei no Kakuritsu" anime official site via Mantan Web
© Hitoshi Iwaaki/Kodansha, VAP, NTV, 4cast