"Dirty Loops~Complete Edition~" to be released in Japan on October 8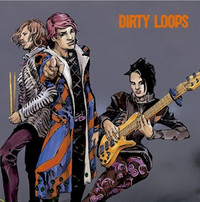 Famous manga artist Hirohiko Araki (JoJo's Bizarre Adventure) has drawn the CD jacket illustration for the three-member Swedish band Dirty Loops' upcoming album "Dirty Loops~Complete Edition~." Because the members are big fans of Araki's works, this collaboration is realized. "It is my honor," Araki says, "Having gotten a hint from Dirty Loops' 'Loop,' I included an element which can 'loop' in an unexpected place. I also used the Swedish national flag a little. I will be glad if they think it's cool."
The two-disc album is a complete edition of their first album "Loopified" released in May 2014, with bonus tracks. The second disc contains six cover songs with two new songs "Where's the Beat" and "Afterglow." The cover songs are: "Circus" (Britney Spears), "Rolling in the Deep" (Adele), "Baby" (Justin Bieber), "Just Dance" (Lady Gaga), "What Makes You Beautiful" (One Direction), and "Ta Fête"
(Stromae). The album will be released in Japan on October 8 first, then internationally later.
"Dirty Loops~Complete Edition" jacket illustration by Hirohiko Araki
Dirty Loops artist photo © 2014 UNIVERSAL MUSIC
"Hit Me"
"Ta Fête"
via: Natalie