Village Vanguard in Tokyo serves up some crazy curry for your taste buds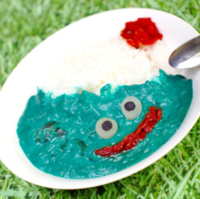 If you enjoy curry, why not try this neon blue-tinted Slime Curry? The folks at the Japanese bookstore chain Village Vanguard have begun carrying this product, inspired by the classic Slime enemy from the Dragon Quest series, along with its other lineup of premade curries.
The Slime Curry comes after Village Vanguard's additional products like Unazuki Beer Curry and Melon Curry, and it's now available to preorder for 1,080 yen (~$10.06).
It may look striking, but it's full of quite normal ingredients like carrots, tomato paste, beans, chicken, and onion. It comes in a heatable pouch that holds about seven ounces. There aren't any sort of toppings or additional ingredients with the curry, so if you truly want to make your dinner look like a Slime, you'll have to provide your own.
It looks delicious! What do you think?
[via RocketNews24]
-------
Fueled by horror, rainbow-sugar-pixel-rushes, and video games, Brittany is a freelancer who thrives on surrealism and ultraviolence. Follow her on Twitter @MolotovCupcake and check out her portfolio for more.