"THE SUPERNOVA STRIKES" hits stores on November 26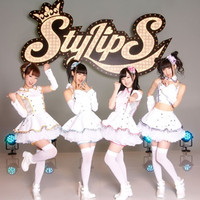 Voice actress idol unit StylipS announced the schedule for their upcoming tour in 2015 at the 15th Anniversary Live Lantis Matsuri event held at Shiokaze Kouen in Tokyo yesterday. It will be their first tour by the current four members after the member change in April 2013. The announced three places are: Nagoya Live Hall M.I.D in Aichi Prefecture on March 22, Esaka Muse in Osaka on March 28, and Tokyo Dome City Hall in Tokyo on April 19. Their latest album "THE SUPERNOVA STRIKES" is scheduled to be released in Japan on November 26.
The unit was originally formed by Arisa Noto, Maho Matsunaga, Kaori Ishihara, and Yui Ogura in December 2012. After Ishihara and Ogura left the unit mainly due to schedule conflicts (the two have also worked for their own unit YuiKaori since 2009), Moe Toyota and Miku Ito joined in April 2013. Their 6th single "Junsui na Fujyunbutsu" (Pure Impurities) was released on May 21 and was used as the OP
theme for the TV anime The Comic Artist and Assistants.
StylipS' current members are:
Arisa Noto (Mihari Otosuna in The Comic Artist and Assistants)
Maho Matsunaga (Erena Todou in Love Live!)
Moe Toyota (Fumi Kujo in Jinsei)
Miku Ito (Nanako Usami in Locodol)
Announcement for the 2015 tour
Latest artist photo
"Junsui na Fujyunbutsu" (DANCE STYLE) short PV
via: Natalie
© 2014 Style Cube