"I wanted to attract attention and make money via affiliate links."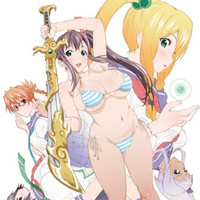 ACCS (The Association of Copyright for Computer Software) reported today on September 17 that Hokkaido Prefectural Police's Anti-Cyber Crime Division, Living and Safety Special Unit, and its Ebetsu Station arrested a 46-year-old unemployed man from Nishi Tokyo-city, Tokyo, on suspicion of copyright infringement on September 11, then referred the case to the Sapporo District Public Prosecutors Office on the following day.
The suspect is accused of posting the first episode of the 2014 TV anime Maken-Ki! Two onto a video-sharing website FC2 without the copyright holder AT-X's permission on June 1, 2014. According to the police, he had posted about 1,000 anime episodes which he obtained using file-sharing software BitTorrent onto the site answering to the requests from the users. The police seized his PCs and hard disks used for the crime from his house on the same day with his arrest. He has already admitted his
charge and said, "I wanted to attract attention and make some money via affiliate links."
No matter whether it is for profit or non-profit purposes, posting copyrighted materials onto video sharing
sites without the right holder's permission is illegal in Japan. It may end up with 10 years in prison and a
10 million yen (US$93,200) fine.
Source: ACCS
Maken-Ki! Two image © Hiromitsu Takeda/Kadokawa Fujimi Shobo/Tenbi Academy Security Committee
---
Related:
Two Japanese Men Arrested for Uploading "Berserk," "K-ON!" Manga
Man Arrested for Uploading "Attack on Titan" Manga 10th Volume
Man Arrested for Posting "Crayon Shin-chan" and "Black Jack" Anime on Video Sharing Site FC2
39-year-old Man Arrested for Uploading "Attack on Titan," "One Piece" TV Anime Episodes
Chinese Man Arrested for Selling Pirated Boa Hancock Figures
Another Share User Arrested for Uploading "K-ON!!" TV Anime
45-year-old Man Arrested for Uploading 4 TV Anime including "Non Non Biyori," "Nagi no Asukara"
38-year-old Unemployed Man Arrested for Uploading "Dokidoki! PreCure"
33 People Arrested for Illegal Uploading of Anime, Films in 3 Days
36-Year-Old Unemployed Man Arrested for Uploading "Gintama" Manga
47-Year-Old Unemployed Man Arrested for Uploading "Berserk" Manga
Unemployed Man Arrested for Posting Hayao Miyazaki's "The Wind Rises" on FC2 Site
Man Arrested for Uploading "Tamako Market" Anime Episode