Plus a pachislot machine is in the works by Yamasa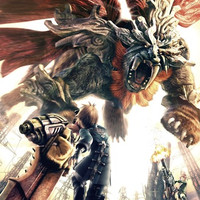 It was officially announced at Tokyo Game Show 2014 today on September 14 that, in commemoration of the 5th anniversary, a TV anime adaptation of Bandai Namco Games' popular PSP action game series God Eater is in the works by ufotable, which has produced the anime footage in the games. The company has also confirmed the announcement on its official website.
Back in February 2010 when the first game was released in Japan, ufotable produced a 12-minute anime promotional video telling the prequel story six years ahead of the game. Takayuki Hirao (Majocco Shimai no Yoyo to Nene) written/directed the PV with the character designer Tetsuya Takeuchi (Sword Art Online II action animation director). The staff for the TV anime has not yet been revealed.
It is also announced that one of the major pachislot companies, Yamasa will release a pachislot machine
based on the game franchise. Its 2D/3D anime footage is produced by ufotable. Yamasa has released
many machines featuring popular game franchise such as Sengoku Musou, Biohazard, and Tekken.
2010 PV
"God Eater" 1st PSP game jacket
Source: Game Watch, ufotable
© BANDAI NAMCO Games Inc.