The 1st Blu-ray volume will be released on September 24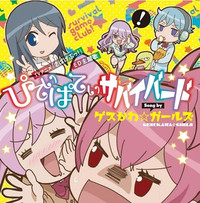 The final 12th episode of the TV anime adaptation of Hidekichi Matsumoto's Sabagebu! - Survival Game Club manga is scheduled to be aired in Japan tomorrow on September 21, then the 1st volume of the Blu-ray disc, which contains the first two episodes of the TV anime with one newly-produced 12-minute OVA episode, will be released three days later. In commemoration of both, the anime will hold a special event "Housou Kanketsu Arigatou! GesuKawa☆Event" with the five main voice cast at Science Museum in Tokyo on September 27.
In order to prepare for the event, a masked group named GesuKawa☆Boys, formed by the production staff of the anime, has posted two dance choreography videos for the ED song "Pitty Patty Survibird" and its CD single's coupling song "Zenjyoshiryoku de Exterminating!!" on YouTube for the fans who want to dance in the same way with the voice actresses on the stage. Please practice well for the event!!
"Pitty Patty Survibird"
"Zenjyoshiryoku de Exterminating!!"
CM for the Blu-ray volume 1
via: Ohashi Ayaka's official information Twitter
© Hidekichi Matsumoto, Kodansha/"Sabagebu!" Production Committee