Produced by Nelke Planning (The Prince of Tennis, Black Butler)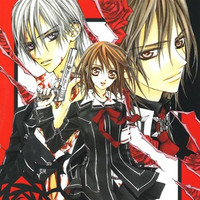 It is officially announced in the latest November issue of Hakusensha's monthly shoujo manga magazine LaLa, which is released in Japan today on September 24, that a musical adaptation of Matsuri Hino's Vampire Knight manga series is in the works. The musical is scheduled to be performed at Hakuhinkan Theater in Tokyo from January 21 to 25, 2015. It is produced by Nelke Planning, which has worked on many stage play adaptations based on popular manga series such as The Prince of Tennis and Black Butler. Shinnosuke Motoyama, who is known as the choreographer for Macross the Muicalture (2012), directs the musical with a script by Koji Tokuo. The cast will be announced in the next December issue of the magazine.
Vampire Knight was serialized in LaLa from 2005 to 2013, and compiled in 19 tankobon volumes. The last 19th volume was published in Japan on November 5, 2013. It has two TV anime adaptations produced by
Studio Deen, the 13-episode first season was aired from April to June in 2008, then the second season titled
Vampire Knight Guilty soon followed with another 13 episodes from October to December in the same year.
It is also known as one of the most successful shoujo manga series in the North American market.
According to Bookscan, it sold at least 35,000 copies for each volume at the peak of its popularity around
2008 to 2009 (though its latest volumes have about 7,500). The English edition of the last 19th volume
will be released by VIZ Media on October 14.
The announcement posted in the magazine
The covers of the 1st and 19th tankobon volume
via: Comic Natalie
© Matsuri Hino/Hakusensha