With seat motion, wind, mist, scents, and smoke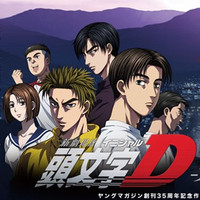 The official site for the new Initial D trilogy film project has announced that its first chapter Shin Gekijo-ban Initial D: Legend 1-Kakusei (Awakening)-, which was initially released on August 23, will get 4DX screenings on five selected theaters in Japan next month. 4DX is a new technology to provide various environmental effects to the audience in the theater. The audience of the Initial D film will be able to feel similar experiences with the characters in the racing car with seat motion, wind, mist, scents, and smoke (probably it means tire smoke in this case?).
The 4DX screenings will be held at Cinema Sunshine Heiwajima in Tokyo, Odawara Corona Cinema World in Kanagawa, Nakagawa Corona Cinema World in Aichi, Fukuyama Corona Cinema World in Hiroshima, and Kokura Corona Cinema World in Fukuoka from October 4.
2nd trailer
Promotional poster
Source: "Shin Gekijo-ban Initial D" official site
© 2014 Shin Gekijo-ban "Initial D" Production Committee