Featuring various forms of Migi, Ryoko Tamiya, and Goto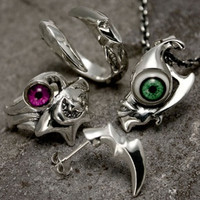 Strange Freak Designs, a silver jewelry brand based in Tokyo, yesterday released the first four items from its latest silver accessory collection inspired by the characters from Hitoshi Iwaaki's popular horror action manga Parasyte. The brand is known for its dark fantasy world-themed skull motif products.
The first four are: Sleeping Migi Pierced Earring (6,000 yen), Migi Pendant (18,000 yen), Migi Ring (21,000 yen), and Double Craw Ring (14,000 yen). The second lineup scheduled to be released on December 1 includes: Tamiya Ryoko Pendant (22,000 yen), Grab Craw Ring (23,000 yen), Spiral Craw Ring (25,000 yen), and Goto Ring (32,000 yen). All of the items come with an original box featuring the Japanese title of Kiseiju. Check the product photos below.
The first four items for October 1
Sleeping Migi Pierced Earring
Migi Pendant
Migi Ring
Double Craw Ring
The second four items for December 1
Tamiya Ryoko Pendant
Grab Craw Ring
Spiral Craw Ring
Goto Ring
Source: Strange Freak Designs via Comic Natalie
© Hitoshi Iwaaki/Kodansha