The latest 13th volume hits Japanese stores today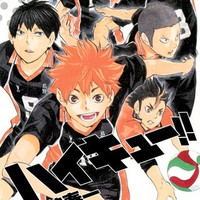 The recently posted video on Shonen Jump's official YouTube channel and a promotional poster for the latest 13th volume reveal that Haruichi Furudate's volleyball-themed sport manga Haikyu!! has gotten a total print run of 10 million copies in Japan.
The manga has been serialized in Shueisha's top-selling weekly shonen manga magazine since 2012. As of the spring of this year, its total print run was reportedly 5.5 million, so it means Production I.G's TV anime adaptation started in April has almost doubled the sales in only 6 months. This is why so many publishers want their titles to be animated. The 13th volume hits Japanese stores today on October 3.
"Haikyu!!" PV Reaching 10 million version
Promotional poster for the 13th volume via @bookland_akiba
古舘春一先生の「ハイキュー!!」最新13巻、もう少しで発売ですね! どうぞお楽しみに~(^_^)/ こちらはポスターです。 pic.twitter.com/w5e18760M0

— ブックランドあきば高島店 (@bookland_akiba) September 29, 2014
© Haruichi Furudate/Shueisha