Series to stream every Monday starting October 6, 2014 at 5:25am Pacific Time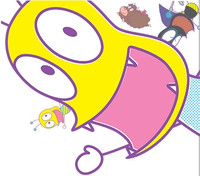 Crunchyroll is excited to announce a continuing simulcast for the Fall season in Bottom Biting Bug 3, which will begin streaming every Monday starting October 6, 2014 at 5:25am Pacific Time for Premium members, with Free members able to watch one week later.
The family-friendly kids series features the protagonist, Bottom Biting Bug the 18th (age 10), who is endlessly cheerful and energetic, and just loves to sing and dance. When bitten correctly by a bottom biting bug, a person with a hunched back will have perfect posture, a depressed person will start to laugh, a timid person will gain confidence... Anyone bitten will seem like a whole new person! However, even bottom biting bugs make plenty of mistakes... The story of B.B.B.'s crazy life continues with more of the humor and gags that kids love!
Bottom Biting Bug 3 will be available to members in the following territories: U.S.A., Canada, United Kingdom, Ireland, South Africa, Australia, New Zealand, Denmark, Finland, Netherlands, Norway, Sweden, Latin America (Central and South America including Caribbean), Austria, Germany, Liechtenstein, Luxembourg, Switzerland, Belgium, Italy, Poland, Czech Republic, Hungary, Romania, France, French DOM-TOM, Andorra, Algeria, Tunisia and Morocco.