Starts Friday, October 3 at 10:05am Pacific Time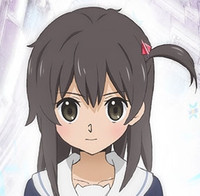 A day of new streaming anime announcements is in the cards at Crunchyroll today (see what I did there?) as selector spread WIXOSS, the second season in the WIXOSS series, is set to join the fall 2014 lineup.
selector spread WIXOSS begins streaming on Friday, October 3 at 10:05am Pacific Time for Premium members, with free members able to watch one week later. More information can be found on www.crunchyroll.com/wixoss.
Background and story
The anime selector spread WIXOSS revolves around the hugely popular card game WIXOSS. Supposedly there are special cards called LRIG cards that only certain girls called selectors are able to use. These selectors use the LRIG cards to have battles in another dimension that cannot be accessed by other humans. The winner of these card battles will have their wish granted.
Takuya Satō (Steins;Gate, Say "I love you".) is directing the anime at J.C. Staff. Mari Okada (Anohana, Hanasaku Iroha,) is charge of the series scripts, based on an original story by LRIG (Warner Entertainment Japan, Takara Tomy, J.C. Staff). Kyuta Sakai (When They Cry - Higurashi, Steins;Gate) is designing the characters, and Yoshikazu Iwanami is directing the sound. Kentaro Akiyama (Studio Pablo) is the art director, and Yukiko Itou is the color key artist. Kanon Wakashima returns from season 1 to perform the opening theme song, "world's end, girl's rondo."
selector spread WIXOSS will be available to Crunchyroll's audience in the following territories: France and DOM/TOM, Belgium, Switzerland, Andorra, Netherlands, Luxembourg, Algeria, Tunisia, Morocco, Canada, Italy, Spain, Portugal, Bahrain, Cyprus, Iran, Iraq, Israel, Jordan, Kuwait, Lebanon, Oman, Palestine, Qatar, Saudi Arabia, Syria, United Arab Emirates, Yemen, Egypt, Comoros, Djibouti, Eritrea, Libya, Mauritania, Somalia, and Sudan.
---------
Patrick Macias is editor in chief of Crunchyroll News and editor of Otaku USA magazine. He is also the author of the new Paranoia Girls webcomic.