Starts Saturday, October 4th, at 7:00 AM Pacific Time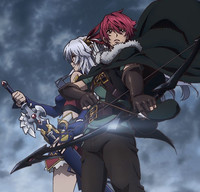 Hang onto your hats! We're due for another round of new streaming anime announcements at Crunchyroll today, and the first one out of the gate is Lord Marksman and Vanadis (jp title:Madan no Ou to Vanadis), based on the light novel fantasy series by Tsukasa Kawaguchi.
Marksman and Vanadis is set to broadcast every Saturday starting on October 4th, at 7:00 AM Pacific Time, and free members able to watch one week later. More information can be found on www.crunchyroll.com/vanadis.
Story and background
"Tigrevurmud Vorn, the young lord of a remote region far from the kingdom's center, is commanded by the king to go fight the war against a neighboring country. The leader of the enemy is Eleonora Viltaria, one of the seven Vanadis given supernatural arms from a dragon. The moment when an archer boy and the silver-haired beautiful war maiden meet, it is the beginning for the legend of a hero that will be told for generations to come."
Voice actor Kaito Ishikawa, also known as Tsumugu Kihara in Nagi no Asukara, plays the hero Tigrevurmud, while Haruka Tomatsu, best known for her role as Asuna in the Sword Art Online series, voices Eleonora Viltaria. Director Tatsuo Sato, who previously worked on Bodacious Space Pirates, will be helming the series, with animation studio Satelight, also known for their work on Nobunaga the Fool, producing the show.
Lord Marksman and Vanadis will be available to Crunchyroll's audience in the Middle East, North Africa, and Europe excluding the Nordics, UK, and Ireland.