Monster Hunter Spirits will be an amusement card game machine in Japan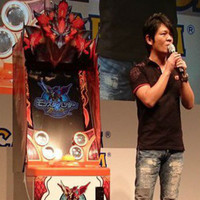 Both Capcom and Marvelous are working together in a bid to "start collaborating in more new business fields," and their first stab at doing so is launching Monster Hunter Spirits, a card game machine in Japan that's meant to expand the appeal of Monster Hunter into the younger market of Japan.
It's currently in development and on track for a release in Spring 2015, with a fee per play of 100 yen or above. There aren't any details thus far about what kind of cards we can expect or how the game will play, but this venture will join several other Monster Hunter initiatives meant to expand the game's appeal beyond the current market.
It should be interesting to see how a card game could play out within the Monster Hunter universe, so this could be a fun and exciting new adventure for the franchise. If you're in the area when it releases, give it a look and see what it's like!
[via Siliconera]
-------
Fueled by horror, rainbow-sugar-pixel-rushes, and video games, Brittany is a freelancer who thrives on surrealism and ultraviolence. Follow her on Twitter @MolotovCupcake and check out her portfolio for more.