Starts tomorrow, October 9th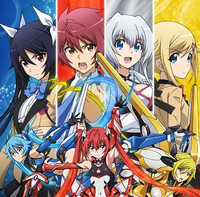 Prepare for more new anime announcements for the fall season issue to issue forth from Crunchyroll today, beginning with Gonna Be the Twin-Tail!! (jp title: Ore, Twintail ni Narimasu) based on the light novel series of the same name written by Yume Mizusawa and illustrated by Ayumu Kasuga.
Gonna Be the Twin-Tail!! is set to broadcast every Thursday starting initially on October 9th, at 3:16 PM Pacific Time, and starting at 12:16 PM Pacific Time from episode 2. Free members able to watch one week later. More information can be found on www.crunchyroll.com/gonna-be-the-twin-tail.
Story and background
Twin tail enthusiast Mitsuka Soji suddenly meets Twoearle, a mysterious girl from another world who gives him the power to transform into a female Twintail warrior. To protect the Earth from monsters, Soji and his friend Aika Tsube transform into TailRed and TailBlue!
Nobunaga Shimazaki (Free- Iwatobi Swim Club) will voice Soji while Sumire Uesaka (Love, Chunibyo & Other Delusions!) will voice his female counterpart TailRed. The opening theme song "Gimme! Revolution." will be performed by Maaya Uchida and the ending theme "Twintail Dreamer!" will be sang by the three twin tail warriors voiced by Chinatsu Akasaki, Sumire Uesaka and Yuuka Aisaka.
Gonna Be the Twin-Tail!! will be available to Crunchyroll's audience in the following territories: The Middle East, North Africa and Europe excluding UK and Scandinavia.