Anime adaptation running this season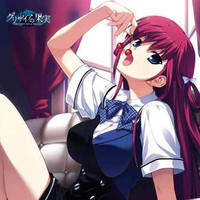 Well timed for this season's anime adaptation, Front Wing, TLWiki, and Sekai Project have announced plans to crowdfund a western release of the Grisaia visual novel trilogy. Sekai Project will be handling general project management and the same staff from TLWiki will be working on all 3 games if this Kickstarter is successful. Front Wing is excited to be releasing their masterpiece for the first time officially overseas.
From their descriptions
Plot
Note: This game contains mature themes and content that might be offensive to some.
Mihama Academy - on the surface, a closed learning environment established to nurture students who find themselves at odds with the world around them; in actuality, an orchard-prison built to preserve fruit that has fallen too far from its tree.
Whatever the circumstances behind its establishment, Mihama Academy is at present home to five female students, all with their own reasons for "enrollment." For better or worse, each girl has established a routine obliging of her current situation; life moves at an idle, yet accommodating pace within the walls of Mihama.
Yet with the arrival of the institute's first male student, the nearly preposterously opaque Kazami Yuuji, the students at Mihama begin to fall out of step with their predetermined rhythms. Will Yuuji prove to be the element the girls around him needed to take hold of their lives once more, or will the weight of their pasts prove too steep a wall to overcome?
And in the first place, just who is Kazami Yuuji? While the true nature of the "job" he is wont to alight to at the most haphazard of moments remains shrouded in secrecy, one thing is for certain - his encroachment upon the quiet orchard known as Mihama Academy will prove itself momentous in one way or another. And of course, one cannot discount the possibility that perhaps Yuuji himself carries the weightiest past of any of the students...
Scenario: Fujisaki Ryuuta (Yukiuta, Draculius), Kazuya (Hoshiuta, Time Leap), Kio Nachi (Sanarara, Scarlett), Kuwashima Yoshikazu (Kamisama Kazoku, Green Green).
Art: Fumio (Yukiuta, Tomoyo After), Poyoyon Rock AKA Watanabe Akio (Bakemonogatari, Nurse Witch Komugi, Popotan)
Music: Element's Garden, eufonius, Faylan, and more
Trilogy?
Grisaia no Meikyuu (The Labyrinth of Grisaia) is a fandisc + prequel while Grisaia no Rakuen (The Eden of Grisaia) is a sequel to Grisaia no Kajitsu (The Fruit of Grisaia). Confused yet?
We will have a edition with the mature content uncut on our own platform; we're working on bringing the all-ages version of the trilogy to Steam, but if Steam rejects the games, then we will release the all-ages versions on our platform as well.
You will be able to choose different digital editions of the game after Kickstarter. The physical versions of the 3 games will only be the mature uncut edition.
Goal
$40,000 is to get Grisaia no Kajitsu (The Fruit of Grisaia)
A large amount of the initial goal is to cover the cost of Japanese voices for the entire series
The official release will include added content such as new CGs and a freshly edited translation.
Stretch goals
$80,000 to get Grisaia no Meikyuu (The Labyrinth of Grisaia)
$120,000 to get Grisaia no Rakuen (The Eden of Grisaia)
Proposed stretch goals
$150,000 to get Idol Mahou Shoujo Chiruchiru ☆ Michiru, still under discussions.
------
Scott Green is editor and reporter for anime and manga at geek entertainment site Ain't It Cool News. Follow him on Twitter at @aicnanime.