Featuring all of the PreCure girls' songs and dances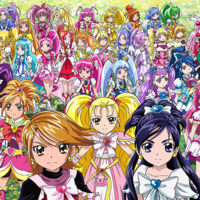 Toei Animation's highly-anticipated film HappinessCharge PreCure! Ningyou no Kuni no Ballerina (The ballerina in the doll kingdom), the feature film version of the on-going TV anime HappinessCharge PreCure! and the 17th feature film in the PreCure franchise, is finally released in Japan today on October 11. As a fan of the series, of course I went to the first screening at 9:30 am at my nearest cinema complex, Toho Cinemas Kochi.
As expected, an announcement for the next PreCure film is attached after the ending of the film, though it has no new footage as usual. The next film scheduled for the spring of 2015 is currently titled as PreCure All Stars: Haru no Carnival (Spring Carnival). Yes, after three DX and three New Stage films, we are still able to see one more All Stars film. The teaser says it will feature the PreCure girls' songs and dances mainly, using their dance scenes from the past series.
Judging from the teaser, it may not have a certain story or even battle scenes, and will be like an extended
version of the 30-minute CG short produced in 2011, PreCure All Stars DX the DANCE LIVE ~Welcome
to the Miracle Dance Stage~. Since Toei Animation has already had experiences of producing 3DCG
shorts/features based on popular anime franchises, such as One Piece 3D: Mugiwara Chase (2011) and
Saint Seiya: Legend of Sanctuary (2014), it is highly likely that Haru no Carnival will be produced as a full-3DCG
feature film.
The HappinessCharge PreCure! film itself is really well done. The story is simple but strong and moving,
action-packed, and well-focused on each girls' personalities. If you are a fan of HappinessCharge and its
characters, I can assure that you will enjoy every minute of it. The first five minutes of the film is now
available on Yahoo! Japan.
The moviegoers can receive this limited PreCard of the dress that Megumi wears in the film
And you can also get this A5-size file for free at the HMV shop in the shopping mall by showing the ticket
The shopping mall helps promoting the film by a guiz rally using the character posters (sorry to forgot
taking Cure Princess...)
Trailer
The poster visual
© Movie "Happinesscharge PreCure!" Production Committee