First two titles in first "Gundam" series and "Turn A Gundam" To Be Released Soon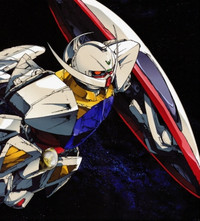 During its panel at New York Comic-Con, Sunrise representatives confirmed that the company that will handle the Gundam franchise in the US will be none other than RightStuf, who has previously handled other Gundam properties such as the Gundam Unicorn OVA in terms of distribution.
The agreement will begin with the first Gundam series as well as the first official US release of Turn A Gundam, previously unreleased in the US.
Here is a Sunrise slide announcing new Gundam deal. It is real pic.twitter.com/qrWKjm13kf

— Todd DuBois (@GWOtaku) October 11, 2014
Retailer and anime publisher RightStuf has also confirmed further Gundam titles such as ZZ Gundam as a part of the expanded collaboration and more information is expected in the weeks and months. Who's excited to finally get a chance to own Gundam from the beginning and in order?
Gundam The Origin 1, Blue-eyed Casval. The OVA will be dubbed by nyav post

— Todd DuBois (@GWOtaku) October 11, 2014
In related news, Sunrise has also confirmed that the Gundam: The Origin OVA will receive an English dub via NYAV Post and the English title for the first Episode will be "The Blue-eyed Casval". Sunrise will also be working to deliver a new Gundam online portal for the new arrangement, along with confirmation that a US deal for Gundam: Reconguista in G is being worked on but wasn't ready in time to be announced for today's panel.
Update: Sunrise has confirmed that home video releases are slated to begin in Spring of 2015.
---
Humberto Saabedra is the Owner of AnimeNews.biz, Editor-in-Chief of PhoneNews.com and a part-time recording engineer. He can also be found musing on things (and Nico Robin) at @AnimeNewsdotbiz