Asami Seto (Shoko in Valvrave) to play the lead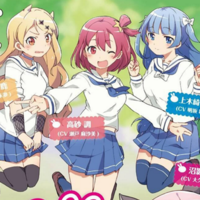 The official Twitter account for Urawa no Usagi-chan, the upcoming local TV anime whose story is set in Urawa, Saitama Prefecture, has announced its eight main voice cast. The news was also announced at the Anitamasai event held at Omiya Sonic City in Saitama-city for two days on October 11 and 12. The details of the story has not yet been revealed, but judging from the main visual, it may be a slice-of-life comedy featuring school girls with a little fantasy elements?
The TV anime is scheduled to premiere on TV Saitama in April of 2015. Check the voice cast below. All of their last names are taken from the real places in the area.
The announced cast:
Usagi Takasago: Asami Seto (Shoko Sashinami in Valvrave the Liberator)
Tokiwa Kamikizaki: Satomi Akesaka (Hina Sato in Tesagure! Bukatsu-mono)
Saiko Numakage: Rumi Ohkubo (Ako Sirabe/Cure Muse in Suite PreCure♪)
Kojika Bessho: Miyu Kubota (Sophie Hojo in Pri-Para)
Sakura Tajima: Yo Taichi (Beni Kinojo in Ai Tenchi Muyo!)
Midori Saido: Hisako Tojo (Albertina II in Himegoto)
Minami Oyaba: Keiko Watanabe (Momoko Suou in The [email protected] Million Live!)
Misono Mimuro: Nao Tamura (Minori in Log Horizon)
Kojika, Usagi, Tokiwa (back) and Saiko (front)
Source: "Urawa no Usagi-chan" official Twitter
© harapara/TV Siatma, Urawa no Usagi-chan Production Committee