Winners of open audition in costumes!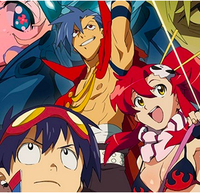 As we mentioned back in April, Gainax's Tengen Toppa Gurren Lagann is coming back as a stage play this month from the 22nd to the 27th in Tokyo, Japan. Tengen Toppa Gurren Lagann -Engeki-hen- previously conducted an open audition for its cast and new images of the majority of the cast in costume have been revealed!
Kotaro Ito as Simon
Shota Motokawa as Kamina
Konona Shiba as Yoko
Miku Ono as Nia
Takuro Sawada as Leeron
Shungo Takasaki as Rossiu
Airi Nakajima as Kiyoh
Mana Ogawa as Kinon
Miu Mochizuki as Kiyal
Rikuhei Fujii as Lord Genome
Takuma Miyazaki as Dayakka
Koji Oshima as Kidd
Teruya Mori as Iraak
Takashi Takanashi as Attenborough
Tomoki Yanagisawa and Shigeaki Fukui as Jorgan & Blinbo
Source: Official home page AnimeAnime!
(C)GAINAX・中島かずき/アニプレックス・KDE-J・テレビ東京・電通 
(C)天元突破グレンラガン~炎撃篇~製作委員会