"Set in Mars, all of the secrets will be unveiled"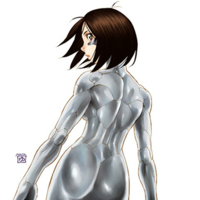 As the author himself suggested in his blog post of January 1 of this year, Gunnm: Kasei Senki (a history of the Mars war), the final chapter of Yukito Kishiro's long-running Gunnm/Battle Angel Alita manga series will start its serialization on the upcoming 22nd issue of Kodansha's bi-weekly magazine Evening to be released on October 28. The issue will also have Kishiro's newly-drawn 33-page one shot "Mukai" (Foggy World), which is based on sci-fi novelist Hirotaka Tobi's original story.
Kishiro's original Gunnm manga was serialized in Shueisha's Business Jump from 1990 to 1995, then compiled in nine tankobon volumes. Its two-part OVA adaptation directed by Hiroshi Fukutomi (1980 original Doraemon: Nobita's Dinosaur) was also released in 1993. The manga sequel Gunnm: Last Order started in Ultra Jump in 2000. Due to a disagreement between the author and the magazine, the manga moved to Kodansha's Evening, then finished its run early this year with 19 volumes.
Gunnm: Kasei Senki will be a follow-up to Last Order. The announcement posted on the 21st issue of
the magazine released today says, "It is set in Mars. All of the secrets will be unveiled. The final chapter
launches at last!"
via: Mantan Web
© Yukito Kishiro/Kodansha