Including the OP song for the winter 2015 TV anime "DOG DAYS''"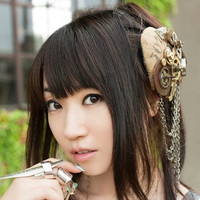 The official website for popular anime voice actress/singer Nana Mizuki announced on October 13 that her as-yet-titled 31st single will be released on January 14, 2015. The four-song disc will include the OP theme for the 2015 winter TV anime DOG DAYS'', in which she also voices Nanami Takatsuki and Ricotta Elmar. She has sung the OP songs for the previous two seasons: "SCARLET KNIGHT" for the first season DOG DAYS (April-June 2011) and "FEARLESS HERO" for the second season DOG DAYS' (July-September 2012). Meanwhile, Yui Horie who voices Millhiore Firianno Biscotti has performed all of the ED songs including the third season's.
It is also confirmed that King Records will release her latest live Blu-ray/DVD "NANA MIZUKI LIVE FLIGHT×FLIGHT+" on the same day with her 31st single. The four-disc Blu-ray set (six discs for the DVD
set) will contain her two concerts at Yokohama Stadium on August 8 (the final day of her "NANA MIZUKI LIVE
FLIGHT 2014" tour) and at Resorts World Theater in Singapore on September 27.
Nana Mizuki artist photo © King Records
30th single "Kindan no Resistance" full PV
Source: Nana Mizuki official website