Ambitious plans include six series and over 31 volumes of classic manga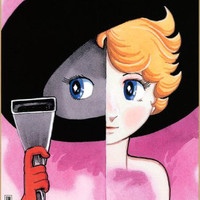 After successful Kickstarter campaigns to crowdfund English releases of "God of Manga" Osamu Tezuka's Captain Ken, Unico, Atomcat and Triton of the Sea, Digital Manga is preparing an even more ambitious KickStarter campaign for six series and over 31 volumes of classic manga.
At Anime Expo 2013, Digital Manga announced an agreement with Tezuka Production to bring the entire the Osamu Tezuka manga library to North American audiences.
Around 4pm, should we officially announce the titles for the upcoming #Tezuka kickstarter? (Schedule to launch next week or the following)

— Digital Manga, Inc. (@digitalmanga) October 17, 2014
Heads up: Due to Twitter's posting limits, we'll announce the titles for the upcoming #Tezuka Kickstarter in 3 parts. Today & Sat/Sun -10am

— Digital Manga, Inc. (@digitalmanga) October 17, 2014
#Tezuka Update Teaser: Kickstarter is for 6 Tezuka Series = Grand total of 31 vols. Main Goal: 3-eyed one + Rainbow Parakeet. More tmrw-10am

— Digital Manga, Inc. (@digitalmanga) October 17, 2014
#Tezuka Update Teaser: Once we reach our main goal, we move on to Stretch Goal #1: Publishing Wonder 3 + Alabaster!! :) More tmrw -10am

— Digital Manga, Inc. (@digitalmanga) October 18, 2014
The official Tezuka site's descriptions of the series:
This is a science fiction story in which a boy with supernatural powers, Sharaku Hohsuke, probes into circumstances surrounding events in history. He is also a descendent of the "three-eyed tribe." A second-year student in junior high school, Sharaku Hohsuke never goes without a large bandage on his forehead. He is an innocent boy, like a little child.
But once the bandage comes off, his third eye appears and he suddenly turns into a devil-like being, displaying horrifying psychic power.
Sharaku Hohsuke is thrown into a series of mysteries related to our ancient heritage and treasures with his classmate Wato Chiyoko, who is a tomboy.
..July 7, 1974 to March 19, 1978
Appeared serially in "Weekly Shonen Magazine" (Kodansha Ltd.)

This is a work that Tezuka Osamu wrote for "Weekly Shonen Magazine" after 19 years with that publication and, along with "Black Jack" (published in "Weekly Shonen Champion") is counted among his major works of the 1970s.
At first, this work appeared as an independent episode on a monthly basis, but was later changed to a weekly. As "Weekly Shonen Magazine" at that time relied heavily on such story Manga as "Ore-wa-Teppei (I'm Teppei)" by Chiba Tetsuya and "Yakyukyo no Uta (Poem of the Baseball Craze)" by Mizushima Shinji, Tezuka Osamu's unique style came as a refreshing surprise to readers.
Although "Weekly Shonen Magazine" was a boys' magazine, the appeal of the character Sharaku Hohsuke captured the attention of many female readers, as was also the case with "Black Jack."
"Rainbow Parakeet" is a criminal action Manga featuring a unique character: the parakeet is a genius actor whose specialty is mimicry, but he is also a thief. He accepts any role as a mimic, and performs it very well on the condition that the theater and the company overlook his stealing from the audience.
A woman detective Senri Mariko follows him around in an attempt to arrest him, although she loves him. Then, Tamasaburo, a dog capable of performing as wonderfully as Rainbow Parakeet, joins the company.
...
From March 20, 1981 to May 28, 1983
Appeared serially in "Weekly Shonen Champion" (Akita Shoten Publishing Co., Ltd.)

The story is based on a range of famous plays. "Rainbow Parakeet" is a work that only Tezuka Osamu, an authority on drama, could create. He developed the story to include bits and pieces of many famous plays ranging from Shakespeare to Kabuki. Since Tezuka Osamu was a big fan of movies as well as drama, he creatively borrowed many famous names from such plays and movies. For example, Lawrence Olivier and John Gielgud, who appear in the first episode "Hamlet," appear as famous movie stars in Japan rather than as actors of Shakespearian plays.
"Amazing Three" is an SF drama featuring three aliens who come to survey the earth and a human boy, Shinichi, and tells the story of their fight against various bad people.
It is the year 196X, experiments with the hydrogen bomb continue and the world is at war.
To resolve whether to save the barbarous earth or erase it with an antiproton bomb, the superior beings gathered in the Milky Way confederation deep in space decide to dispatch three investigators to earth.
So as not to appear suspicious to humans, Bokko, Pukko and Nokko, the three people in the Milky Way patrol known as the Amazing Three, are transformed into a rabbit, a duck and a horse and sneak into a village called Ogawa-mura somewhere in the countryside of Japan.
There they get to know a wild but simple-hearted boy called Shinichi Hoshi and start to run with him.
Meanwhile, Shinichi's older brother, Koichi, is involved in a fight for justice as a member of the secret intelligence agency "Phoenix" against a global plot, a position he has concealed even from his own family.
Shinichi and W3 get sucked into this plot. Through their exchanges with Shinichi and Koichi, the three members of W3, who initially thought the earth was just a barbarous planet, find their feelings being gradually transformed.
...
May 30, 1965 to May 8, 1966
Appeared serially in "Weekly Shonen Sunday" (Shogakukan, Inc.)

Although the "W3" magazine serialization and the television anime series, produced by Mushi Production, were started at the same time and the basic set up were identical, the stories were completely different.
"W3" was first serialized in the publication "Weekly Shonen Magazine." However, shortly after the serialization started, Tezuka Osamu axed the series after just four episodes because the television anime was launched and its settings were very similar to the magazine version.
This work was later serialized under the same title but with a completely different concept in "Weekly Shonen Sunday."
Tezuka Osamu's friends frequently appear in his works, and in this creation, his friend the Manga artist; Mr. Baba was the model for the teacher of the same name, forming an important member of the cast.
Likewise, the hero, Shinichi Hoshi, is associated with Tezuka Osamu's friend, the SF writer Shinichi Hoshi.
"Alabaster" is a criminal science fiction of suspense depicting the dark side of the human psyche that envies beautiful things.
James Block is a young black man with sinister intentions. When he is in prison, a strange old man tells him about the "F" laser beam that makes humans and any other living things invisible. After he has been released from prison, James receives the F laser beam. But because the beam is imperfect, he becomes semitransparent with an ugly figure. From that time on, he calls himself "Alabaster" and hates anything beautiful.
Using the F laser beam, he begins to eliminate hypocrites and those who boast of their beauty. When living things are exposed to the F laser beam long enough to become transparent, they die. Meanwhile, Dr. F, who told Alabaster the secret of the F laser beam, had previously used his daughter as a guinea pig to investigate its effects. The daughter, who was pregnant at the time, gave birth to a girl. The girl, who was named Ami, is completely invisible. Alabaster approaches Ami and begins to use her for his dark purposes.
...
December 27, 1970 to June 28, 1971
Appeared serially in "Weekly Shonen Champion" (Akita Shoten Publishing Co., Ltd.)

Tezuka Osamu was well known for his excellent understanding of human nature, and for having loved people and the natural world. He also wrote many stories of suspense that depicted men's evil minds. "Alabaster," "Vampire"(1966-1967) and "MW"(1976-1978) are outstanding examples of this type of story.
When first published in a boys' magazine, "Alabaster" caused a controversy. Following his appearance in "Vampire," Rock appears in this work as a cold-blooded, narcissistic FBI official whose viciousness catches readers' attention. "Alabaster" is named for alabaster, a white or semitransparent stone that is used for making decorative objects or statues. It is not produced in Japan.
UPDATE:
#Tezuka Update Teaser: After we complete our Stretch Goal #1, we move on to Stretch Goal #2: Publishing Vampires + BirdMan Anthology!!

— Digital Manga, Inc. (@digitalmanga) October 19, 2014
------
Scott Green is editor and reporter for anime and manga at geek entertainment site Ain't It Cool News. Follow him on Twitter at @aicnanime.
Alabaster