Further details follow confirmation in magazine interview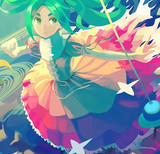 Following the confirmation of the Tsukimonogatari animation that came out this past weekend in Japan, more details have been confirmed via a new promotional poster, seen below and first posted by YaraOn.
The poster confirms that the adaptation will span four episodes airing concurrently on New Year's Eve in Japan and will be released on home video in 2015. As the poster was obtained ahead of an expected official announcement, the official websiite for the adaptation currently registers a 404 error. The New Year's Eve airdate for Tsukimonogatari also follows the New Year's Eve airing of Nekomonogatari (Kuro) on New Year's Eve 2012 that spanned into 2013.
via pKjd@moetron
Illustration: ©Kodansha BOX/VOFAN
---
Humberto Saabedra is the Owner of AnimeNews.biz, Editor-in-Chief of PhoneNews.com and a part-time recording engineer. He can also be found musing on things (and Nico Robin) at @AnimeNewsdotbiz