Directed by Akira Iwanaga (Tegami Bachi series)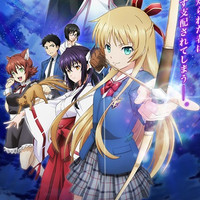 The official site for the upcoming TV anime adaptation of Osamu Takahashi's school action love comedy manga ISUCA is today full launched with a key visual featuring the main characters. The manga has been serialized in Kadokawa Shoten's Monthly Young Ace since 2009, and currently five tankobon volumes are available.
The story centers on Sakuya Shimazu, the temporary 37th head of the Shimazu clan whose business has been demon hunting. To succeed the position officially, she wants to prove her ability as a demon hunter by the number of the demons she can seal. Her high school mate Shinichiro Asano happens to works as a housekeeper at her house to pay his rent. After accidently releasing a demon into the world, he has to cooperate with her on her missions.
The TV anime is produced by Arms, which is known for Yasuomi Umetsu's latest work Wizard Barristers:
Benmashi Cecil, with the TV anime adaptations of Maoyu, Aesthetica of a Rogue Hero, Hyakka Ryoran: Samurai
Girls, and the recent Brynhildr in the Darkness. Akira Yasunaga who directed the two Tegami Bachi anime series
serves as the director with the anime character designer Yukiko Akiyama (BLACK CAT, Yumeiro Patissiere).
The TV anime ISUCA is slated for January 2015.
Key visual
Manga 1st and 5th volume covers
via: "ISUCA" anime official Twitter account
©2014 Osamu Takahashi/KADOKAWA Kadokawa Shoten/ISUCA Production Committee